Connect your Hostfully account to getawayGoGo
On Hostfully
---
Step 1: Go to Channels. Scroll to getawayGoGo and switch ON.

Step 2: Click on "Manage this channel" link (#3 in above screenshot) then toggle ON to either add all properties (Toggle All) or individual properties to getawayGoGo.
---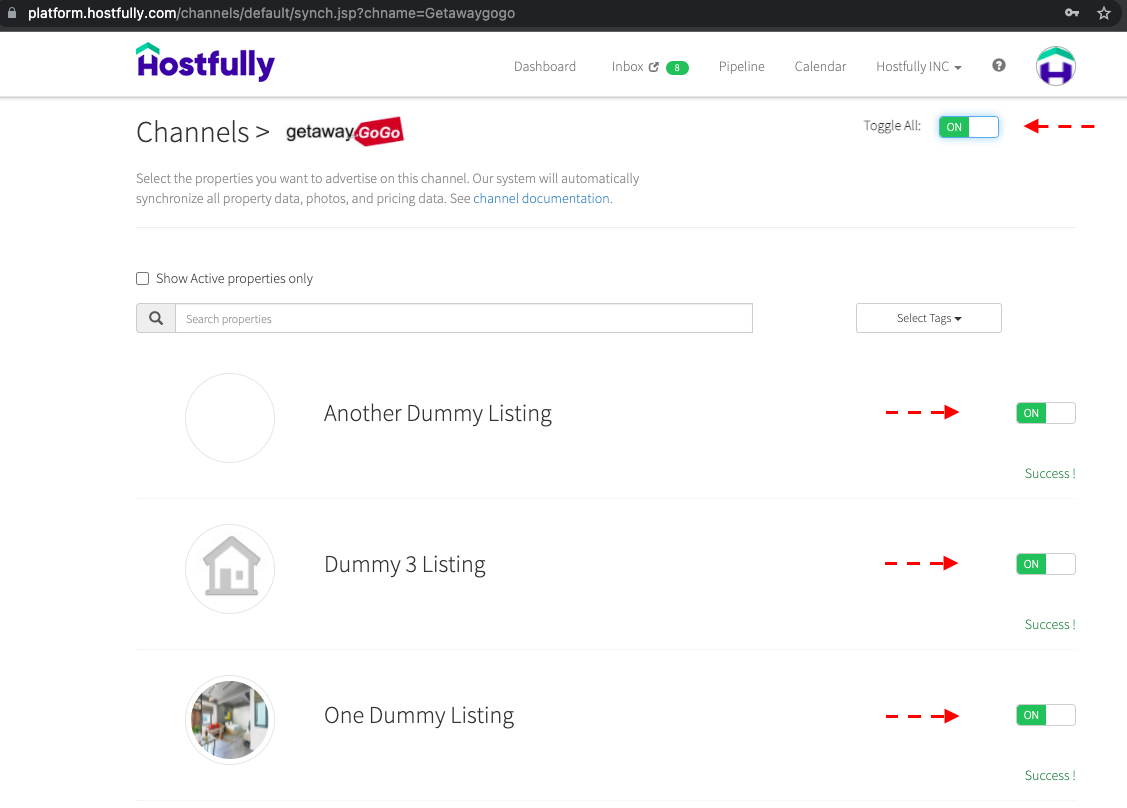 Step 3: Go to Agency Settings and copy your Hostfully Agency UID at the bottom of the page. (instructions)
---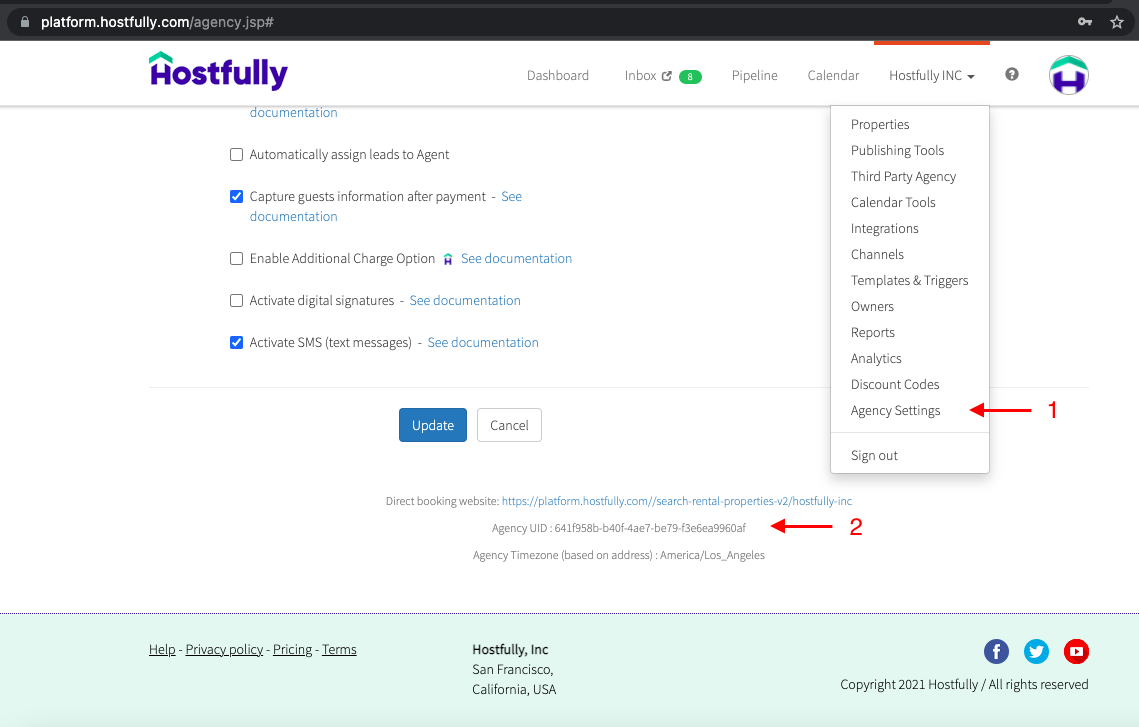 On getawayGoGo
---
Step 1: Go to www.getawaygogo.com
Step 2: Click Login and select Property Manager from drop down
---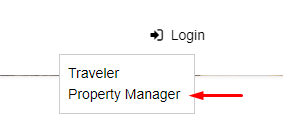 Step 3: Select Sign Up next to Don't have an account.
---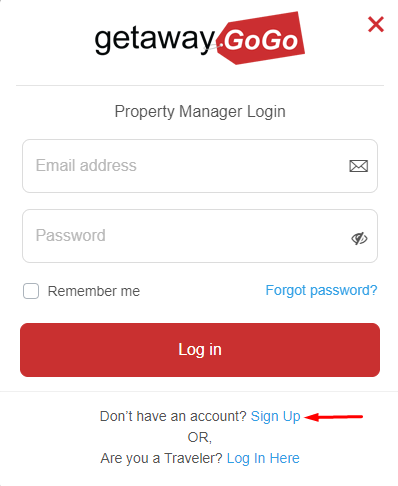 Step 4: Enter your information into the sign-up form and click Sign Up.
---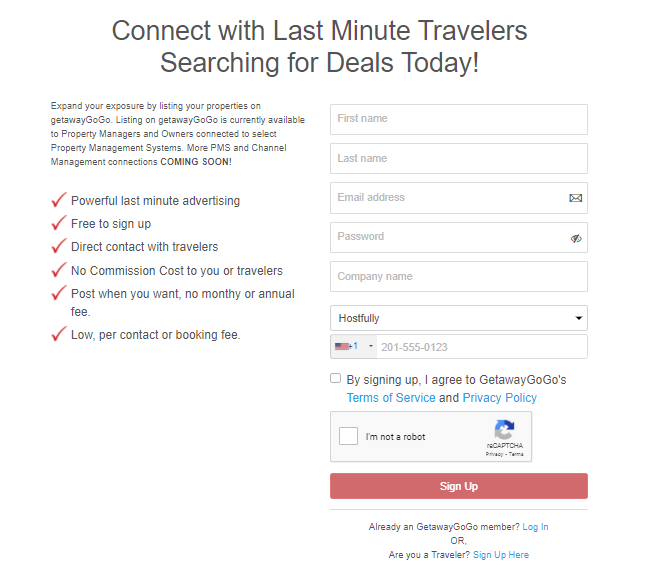 Step 5: Confirm Email Address email. Once this is completed then getawayGoGo will confirm your registration and a second email will be sent to you instructing you to begin the set up wizard.
---
Email 1 – Confirm email address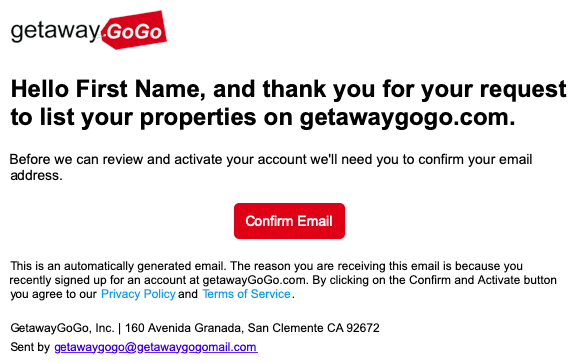 Email 2 – Launch set up wizard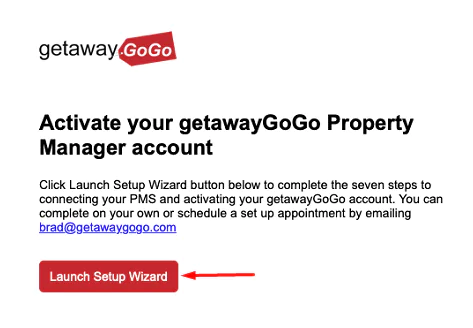 Step 6: Begin all the Property Manager set up wizard steps.
---

Step 7: On the first step of the wizard, choose Hostfully from the dropdown then enter the Hostfully UID. (step 3 from Hostfully above) You should see the following "You are Connected" status if the connection was successful. If the connection did not work, be sure you enabled the getawayGoGo channel in Hostfully, and you copied your Agency UID correctly.
---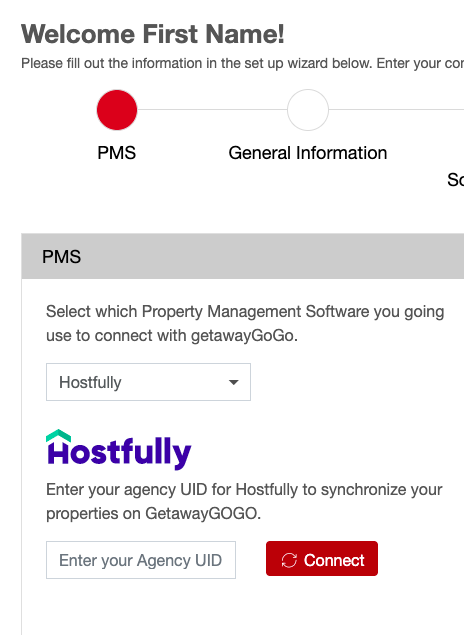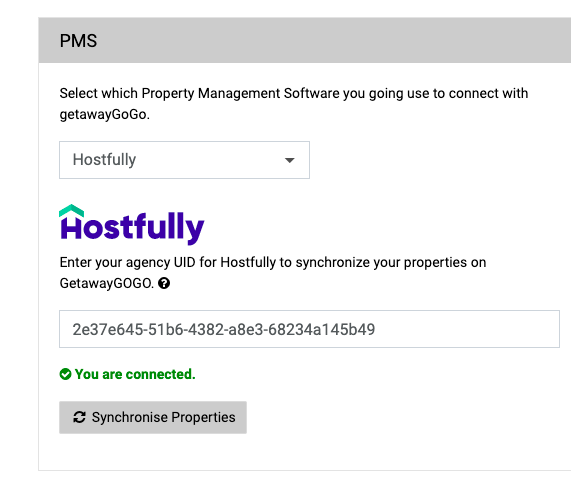 Step 8: Complete the remaining steps. Once your information has uploaded completely, properties that have last minute availability will begin to display to prospective Travelers. Since getawayGoGo is a direct marketplace all communication and payments are between you and the Traveler.
Important note about displayed pricing, strike out pricing and discount badges for new properties on getawayGoGo.
Q: How does displayed strike out pricing work? I see other listings with discount badges and strike out pricing and would like to know how I can create special pricing or discounts for my properties on getawayGoGo?
A: All pricing is directly sourced from your PMS, whether you manage pricing manually or through a dynamic pricing engine. Displayed pricing (current large print price) is based on what the pricing is for nights currently available. Strike out pricing is based on the highest pricing for current available nights over the last 60 days. Since a property's pricing data is new to getawayGoGo it does not know what the highest pricing was for these nights over the last 60 days. As we accumulate pricing data for the next 60 days getawayGoGo will be able to automatically compare your old pricing for the same days with new pricing. We are not able to look backwards to see what the pricing was over the last 60 days to compare.

Regarding changing pricing directly on getawayGoGo. It is one of our values to keep property management simple with all data entry done exclusively in the PMS. Any changes in price you make on the PMS will be reflected on getawayGoGo.
Further Help.
If you need further assistance, please contact us at support@getawaygogo.com.