Connect your OwnerRez account to getawayGoGo
On OwnerRez
---
Step 1: Inside OwnerRez, go to Settings > API Integrations > Connect a Channel, then select Connect getawayGoGo API.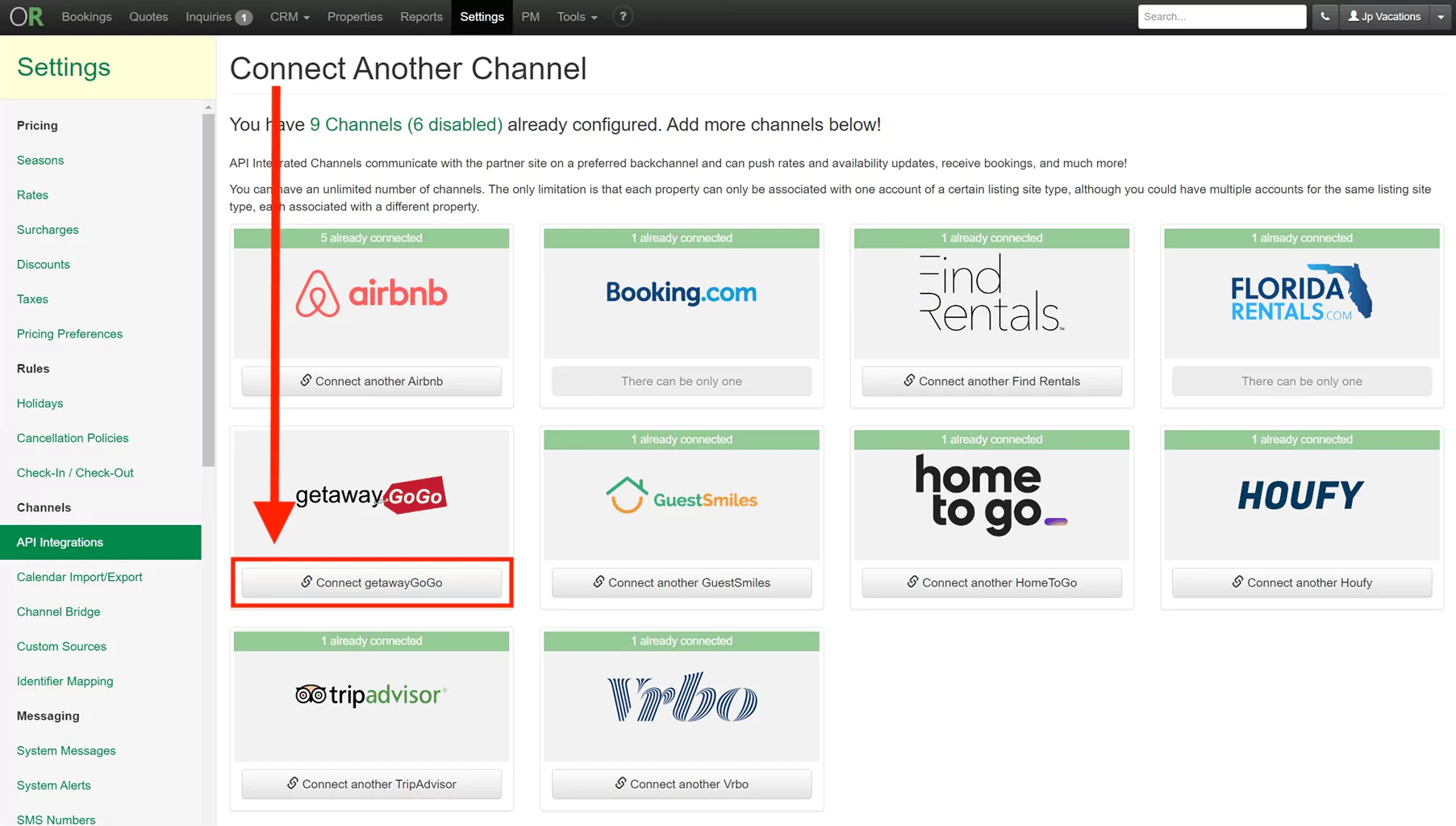 Step 2: Make sure to configure the channel settings and save.
---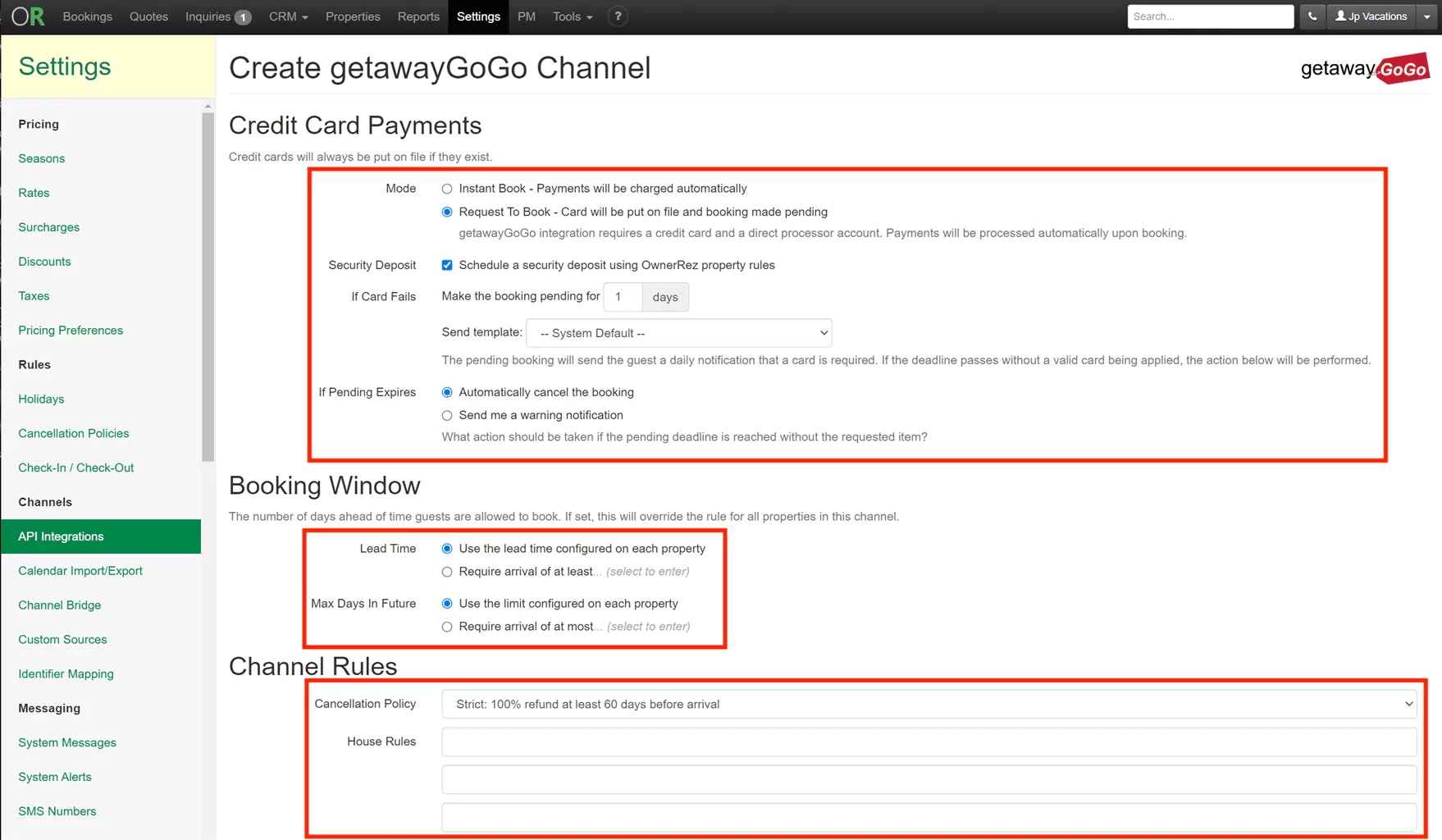 Step 3: Once you save, you will be shown your Account ID. You will need to enter this inside getawayGoGo during the setup wizard after signing up.
---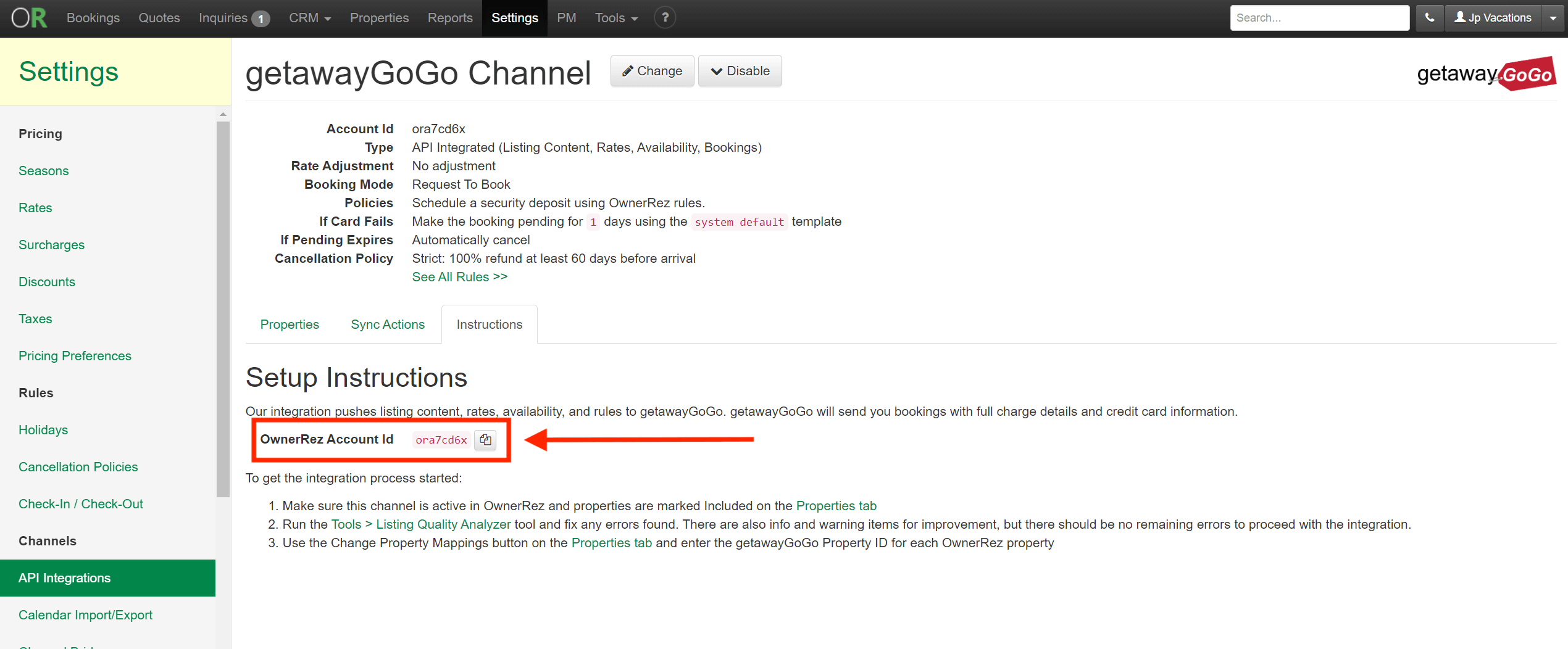 On getawayGoGo
---
Step 1: Go to www.getawaygogo.com
Step 2: Click Login and select Property Manager from drop down
---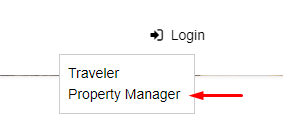 Step 3: Select Sign Up next to Don't have an account.
---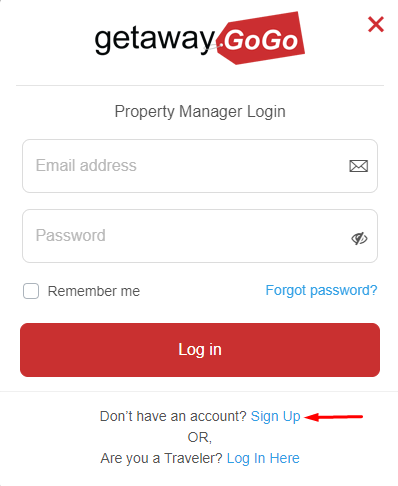 Step 4: Enter your information into the sign-up form and click Sign Up.
---
Step 5: An account Registration Successful Confirmation box appears informing you to check your email inbox for an email confirmation. You can click ok to close.
---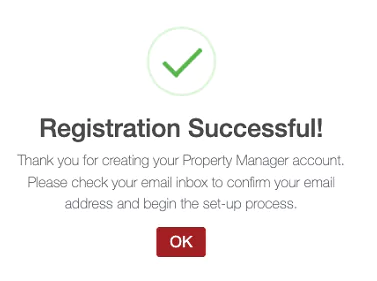 Step 6: Check your email inbox and confirm email address by clicking on red "Confirm Email" button. After clicking you will see an email confirmed box on getawayGoGo.com and our team will receive an email to activate your account. You can click ok to close.
---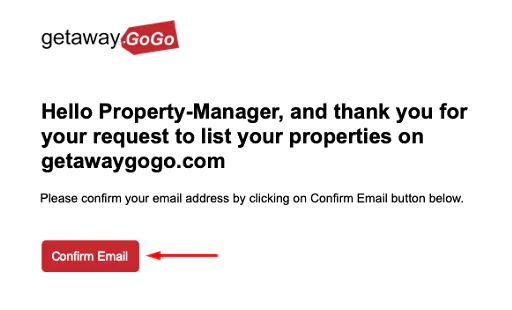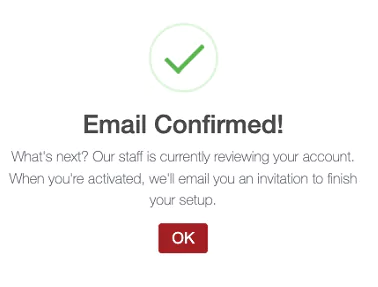 Step 7: Once activated by getawayGoGo team you will receive a second email instructing you to begin the set up wizard. Click on red "Launch Setup Wizard" button to begin set up process. You will be required to login again before entering site.
---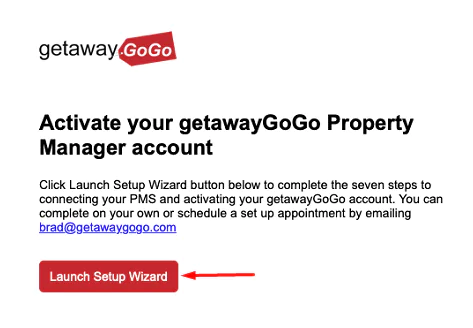 Step 8: Click red "Begin" button to start 7 step set up wizard.
---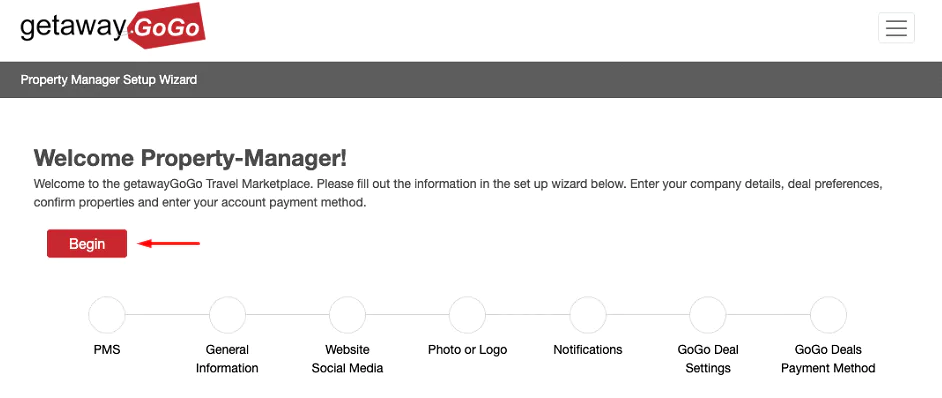 Step 9: Step One of the setup Wizard select your PMS, if it is not already filled in, enter your Channel Account ID. To locate your Channel Account ID in OwnerRez see step one above under "On OwnerRez." Once this information is entered click the Connect button (connection process can take a few minutes depending on your property count). All information in the wizard applies to ALL Properties in your portfolio.
---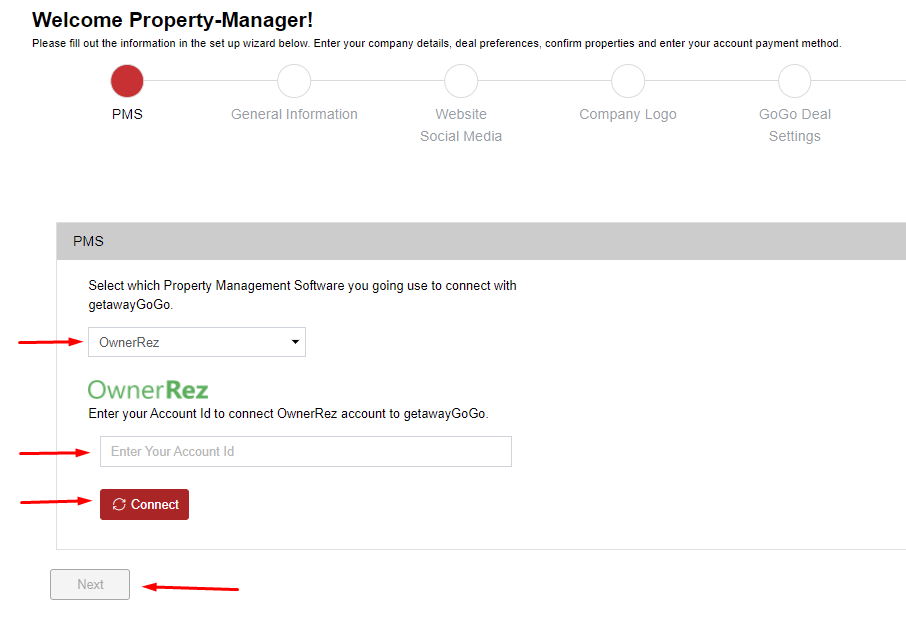 When successful you will see a success notification. When you see this click the next button to complete the next 6 steps.

Wizard Step 2 General Information In this step you will confirm your company name which will already filled out from your original sign up process. Add a description of your management company. Select your time zone and your business hours. This is public information.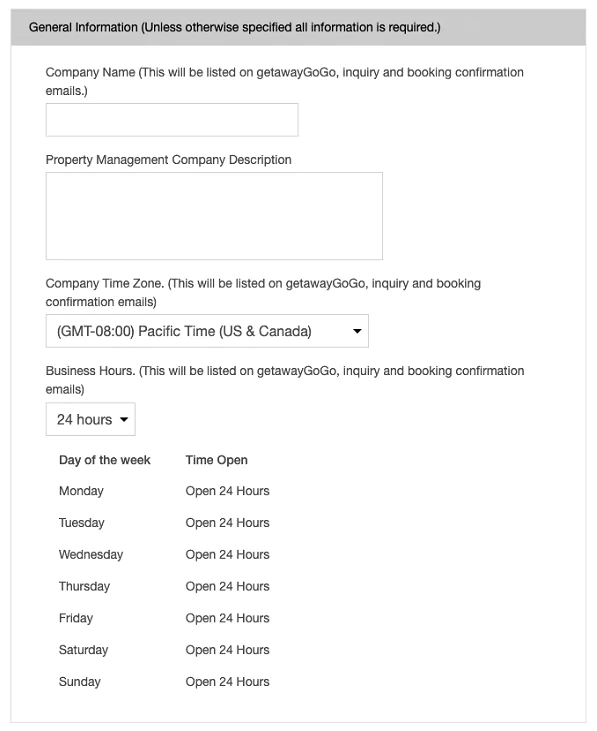 Add your accounting and public email address. They will originally be filled out from the sign up process. You can change these by selecting the New email address dropdown.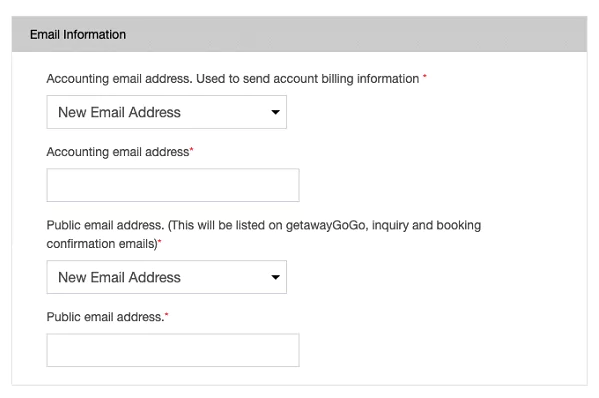 Add your account telephone number. This will also be prefilled from your sign up process. You will need to add your public telephone number.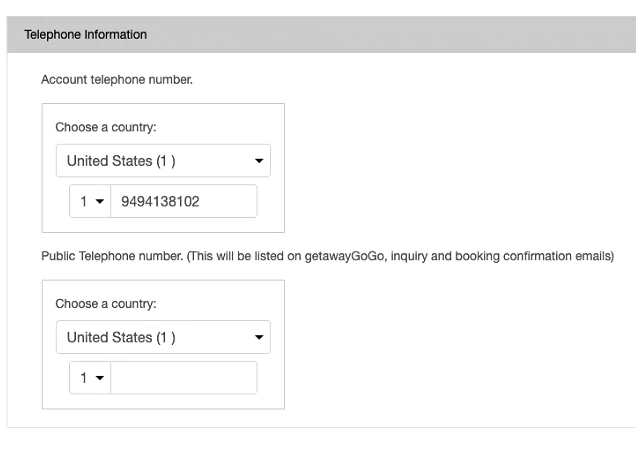 Add your mailing address and your public office address. For the public office address you can choose to use the same address, add a new address or not create a public office address visible to Travelers.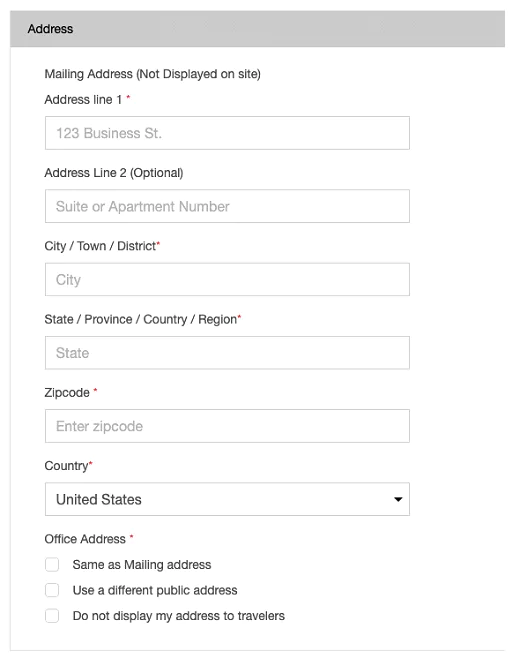 Choose the languages you speak then click Next to go to the next step.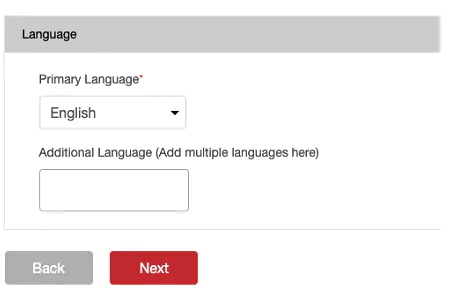 Wizard Step 3 Adding your website address as well as any social sites listed that you would like to publicly display with your contact information. Click Next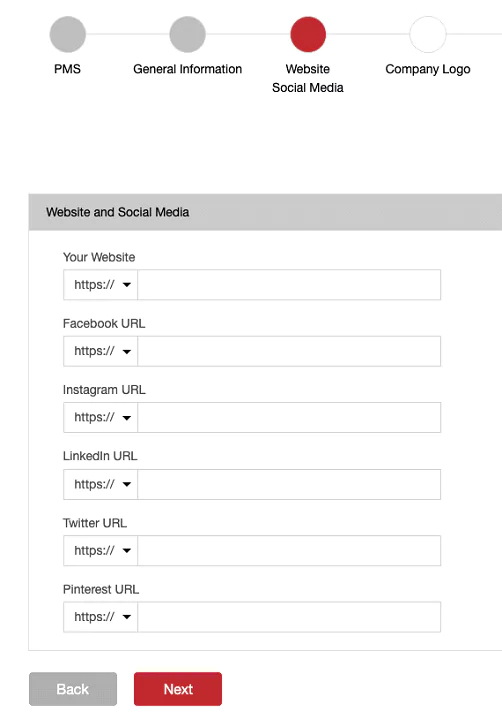 Wizard Step 4 Adding a publicly displayed company logo. Click Next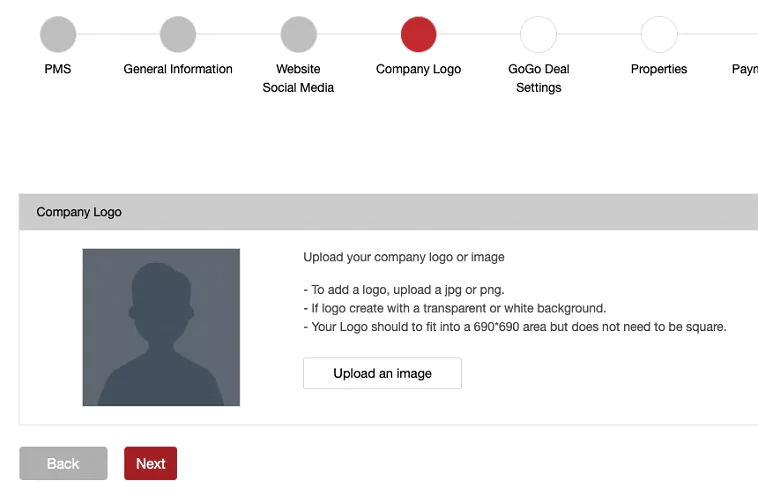 Wizard Step 5 Selecting your GoGo Deal Settings This where you select how you would like Travelers to connect with you on the property pages. You can choose to have the Reserve Now (confirmed booking) button along with the Contact Property Manager button, Just the Reserve Now button or just the Contact Property Manager button displayed. We recommend both. The second part of Step 5 is using the slide bar to choose how many days From and To arrival Travelers are able to view and book your properties. By default From is set to Today which is a same day booking and To is 14 days meaning your property is available to view up to 14 days of arrival. Click Next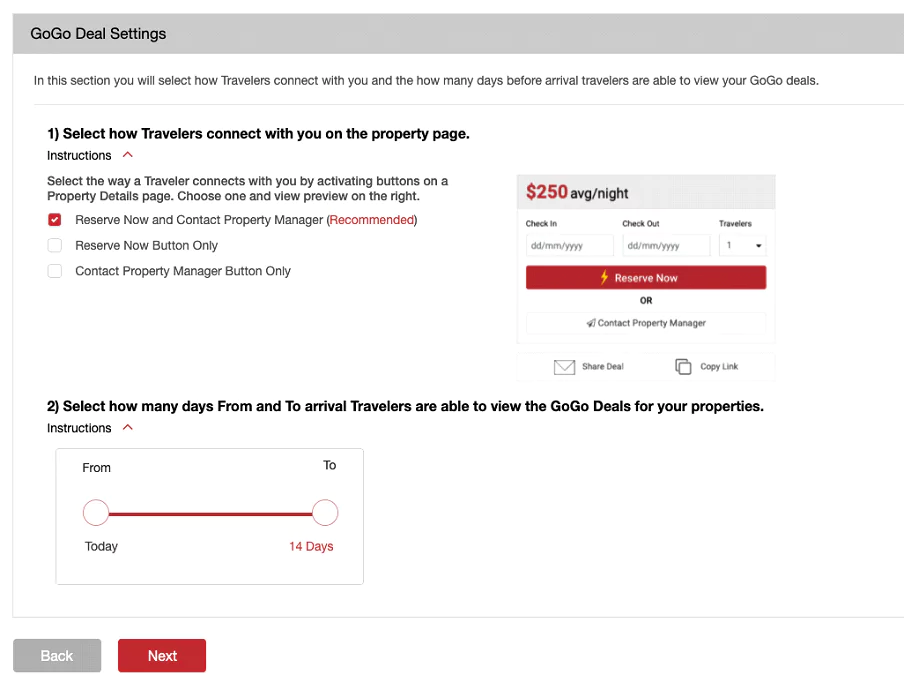 Wizard Step 6 View Connected Properties This is where you will see which properties will be connected to getawayGoGo from your PMS. Please double check they are all there. If not, you may need to check your PMS settings to make sure getawayGoGo is set for ALL the properties you would like displayed on getawayGoGo. You can also manually turn off properties you do not want displayed. Click Next.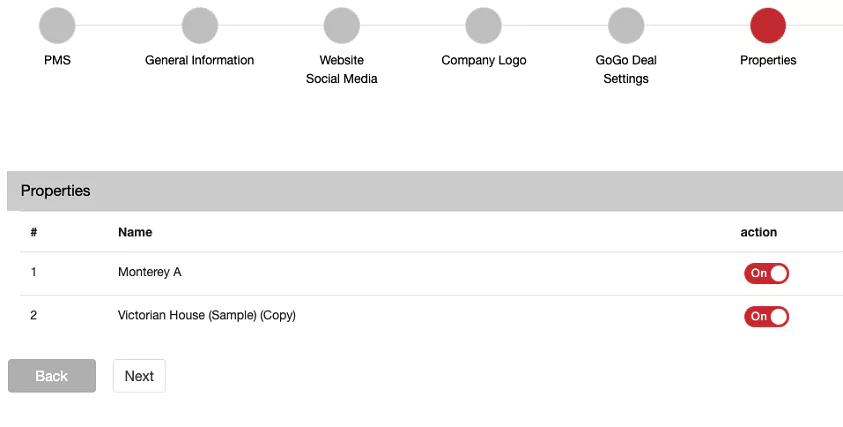 Wizard Step 7 Add your payment method for paying getawayGoGo for Reservations and Connections This is how you pay us and is NOT how your guests pay you. That happens through your PMS and not through getawayGoGo. Once your payment method is finalized then you will automatically proceed to the Congratulations screen. Once this is completed the wizard set up process is completed and you will not be able to return to the wizard. However, you will be able to modify all fields from the wizard in your Property Manager Dashboard.
Congratulations your properties are connected! Our system will continue uploading property information and photos until completed. This can take up to several minutes depending on how many properties you have.
Now that you have completed the set up wizard you can manage all the information entered using the tabs in the black bar of the Property Manager Dashboard. We have also included tabs for accessing Messages and Reservations which include information from Travelers. This is a repository and back up of information that was sent to your PMS or your email address. You DO NOT need to access this information unless you think you are missing something or have deleted information from your PMS.
IMPORTANT REMINDER. Since getawayGoGo is a direct marketplace all communication and payments are between you and the Traveler.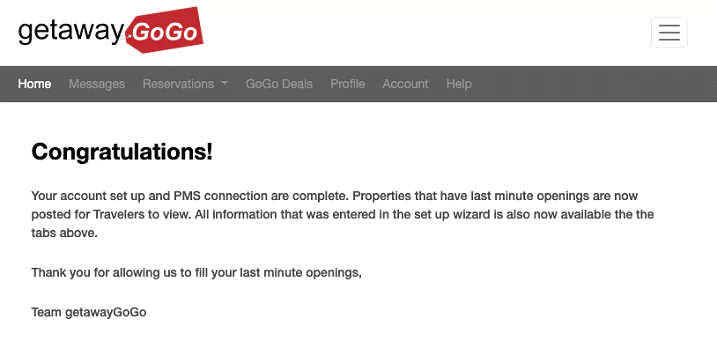 Important note about displayed pricing, strike out pricing and discount badges for new properties on getawayGoGo.
Q: How does displayed strike out pricing work? I see other listings with discount badges and strike out pricing and would like to know how I can create special pricing or discounts for my properties on getawayGoGo?
A: All pricing is directly sourced from your PMS, whether you manage pricing manually or through a dynamic pricing engine. Displayed pricing (current large print price) is based on what the pricing is for nights currently available. Strike out pricing is based on the highest pricing for current available nights over the last 60 days. Since a property's pricing data is new to getawayGoGo it does not know what the highest pricing was for these nights over the last 60 days. As we accumulate pricing data for the next 60 days getawayGoGo will be able to automatically compare your old pricing for the same days with new pricing. We are not able to look backwards to see what the pricing was over the last 60 days to compare.

Regarding changing pricing directly on getawayGoGo. It is one of our values to keep property management simple with all data entry done exclusively in the PMS. Any changes in price you make on the PMS will be reflected on getawayGoGo.
Further Help.
If you need further assistance, please contact us at support@getawaygogo.com.